Pensa J4 Black Korina Custom
One day, while hanging out in New York, I got into Rudy's Music Stop. At the shop's bass section, I asked for "something cool." The representative asked me "have you heard about the Pensa basses?" I said I had heard about the name, but I didn't remember when or where.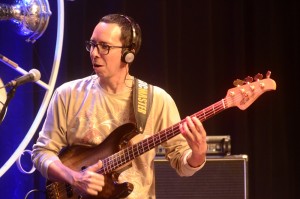 Man… the very first note I played on a Pensa bass was terrific. I heard the tone that I think all bass player in the world would like to hear. Deep and clear lows, well balanced mids, sparkling highs, excellent playability, class-A jazz bass tone … Can you figure out the result of this visit to Rudy's Music Stop? At the time I didn't have money to buy it, but a couple years later I bought a Pensa bass.
My bass has a black Korina chambered body, maple neck and pau ferro fingerboard. The pickups are Lindy Fralin Split and the preamp is a Pensa Custom.
The four controls are neck pickup volume, bridge pickup volume, treble and bass. Despite being a common controls setting, they have some particularities. The bass control is a boost-only control. It means it only adds bass and, if you want a flat sound, you have to set it to zero volume. On the other hand, the treble control is a regular boost/cut control.
Both volume controls have a "pull" function. The neck pickup volume control turns the electronics to passive mode, while the bridge pickup control alters the pickup configuration from parallel to serial.
My impressions
It is an amazing instrument. It has a well balanced and versatile jazz bass tone with its characteristic prominent mids and with a strong and clean lows. Every slight change I make in the pickup controls alters a lot the tone of the instrument. It is very versatile. In addition, the serial pickup tone is killing.
One of the things that most catches my eyes is the cleanliness of the tone. When I record with my Pensa, I almost don't need to add EQ to correct its tone. Almost perfect!
N Zaganin Blend Fretless
A good fretless bass is hard to find. I have had several ones, but I have never got the tone I wanted… until I get the N Zaganin Blend.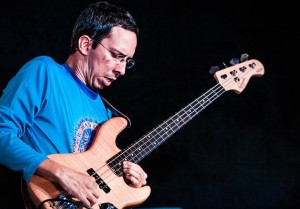 The bass has an Alder body, Pau-marfim neck and Jacarandá fingerboard (with fretlines). The pickups are Cabrera Custom and it has passive electronics. The controls are neck pickup volume, bridge pickup volume and tone. The bridge is Badass and I installed an Hipshot Xtender key in the E string.
I love the playability of the instrument. One thing I can say about its tone is that the bass reaches the extremes of punch and smoothness. Explaining…
If I play the bass closer to the bridge, the bass delivers a prominent and punchy tone like a fretted jazz bass. It comes with a huge attack. On the other hand, if I play it closer to the neck, I have the characteristic sweet tone of a fretless bass. I can say I have never seen this before.
Tokay Hard Puncher Precision Bass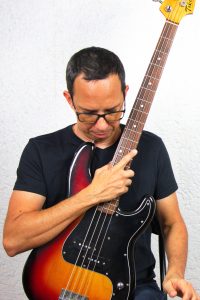 When living in the US, I decided to purchase a precision bass. I knew I wanted a growly precision bass, but, according to my researches, it would not be easy to find a good one. At least, not with the money I had available. I tried some basses in Louisville's shops, but they were not what I was looking for.
When I mentioned it to drummer Mike Hyman, the drums teacher at the University of Louisville, he was very specific. He said "try to find a Tokay made in Japan between 1980/1982 that has a Fender design headstock." He explained that those basses were excellent and that they would be exactly what I wanted.
It seems a miracle happened!! When I got home, I searched on eBay and bang!!! There was one Tokay made in Japan in 1981 available in the US! Without any research, I just bought it and prayed.
One week later I got the bass and it was perfect! Neck, hardware, pickup, finishing and the tone was exactly what I was looking for: a deep growly tone.
I don't have any info about woods or hardware. According to the former owner, all bass parts are original.
Because of the musical genres I play, the Tokay Hard Puncher is not my main instrument. I use it mostly for recordings and some pop gigs. Thus, I don't need to play it very often to keep my chops up to date.
Eden Terra Nova TN-501 Bass Amp
The amp I have been using is the David Eden Terra Nova TN-501. It is a light weight amp with a very good tone. The main reasons I bought it was its weight (2.4 Kg), its power (500 W) and its EQ section with four bands. I have seen several light weight bass amps with a 3-band EQ, but I would rather to have 4 bands available. Especially the semiparametric mid EQ bands.
I bought this amp without any try.
WBass Cabinets
Recently, I bought a WBass 210D bass cabinet from the Brazilian builder Wbass. I got really impressed with its tone. Really solid and punchy.
It is a 400W (8 Ohms) cabinet with two 10″ neodymium speakers and one driver. The cabinet project is fantastic and it comes with a volume control for the driver.
In general, I rather to play thru a 10-inch speaker because of the fast response and brighter tone it provides. I know I lose some low end because of the speaker size, but I'm good with that. Fortunately, the WBass cabinet provides a very good low end too. At least better than most 10-inch cabinets I have tried.